The Pub
The West Salem Public House continues the historical pub tradition of bringing fresh, locally brewed ales & lagers into a warm neighborhood meeting place. A walkable, affordable spot for the folks of Winston-Salem's historic, downtown neighborhoods, the pub is meant to welcome both regular patrons and new visitors, and to turn strangers into neighbors. Our vision is to be a third place between work and home where you can explore new friendships and refreshments, but also feel the comfort of old favorites (people and beverages).
Cheers! -The Publicans
Beverages

WSPH is a place for everyone to get a delicious libation. Our beer list is always diverse, but unpretentious, with a special focus on regional and local craft brewing. Our wine list is eclectic and fun, but approachable. We balance Old and New world, trying to avoid ruts without being esoteric.

We offer a wide array of non-alcoholic options.
Powered by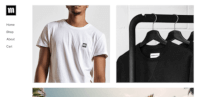 Create your own unique website with customizable templates.